Turtle Watch Snorkeling Trip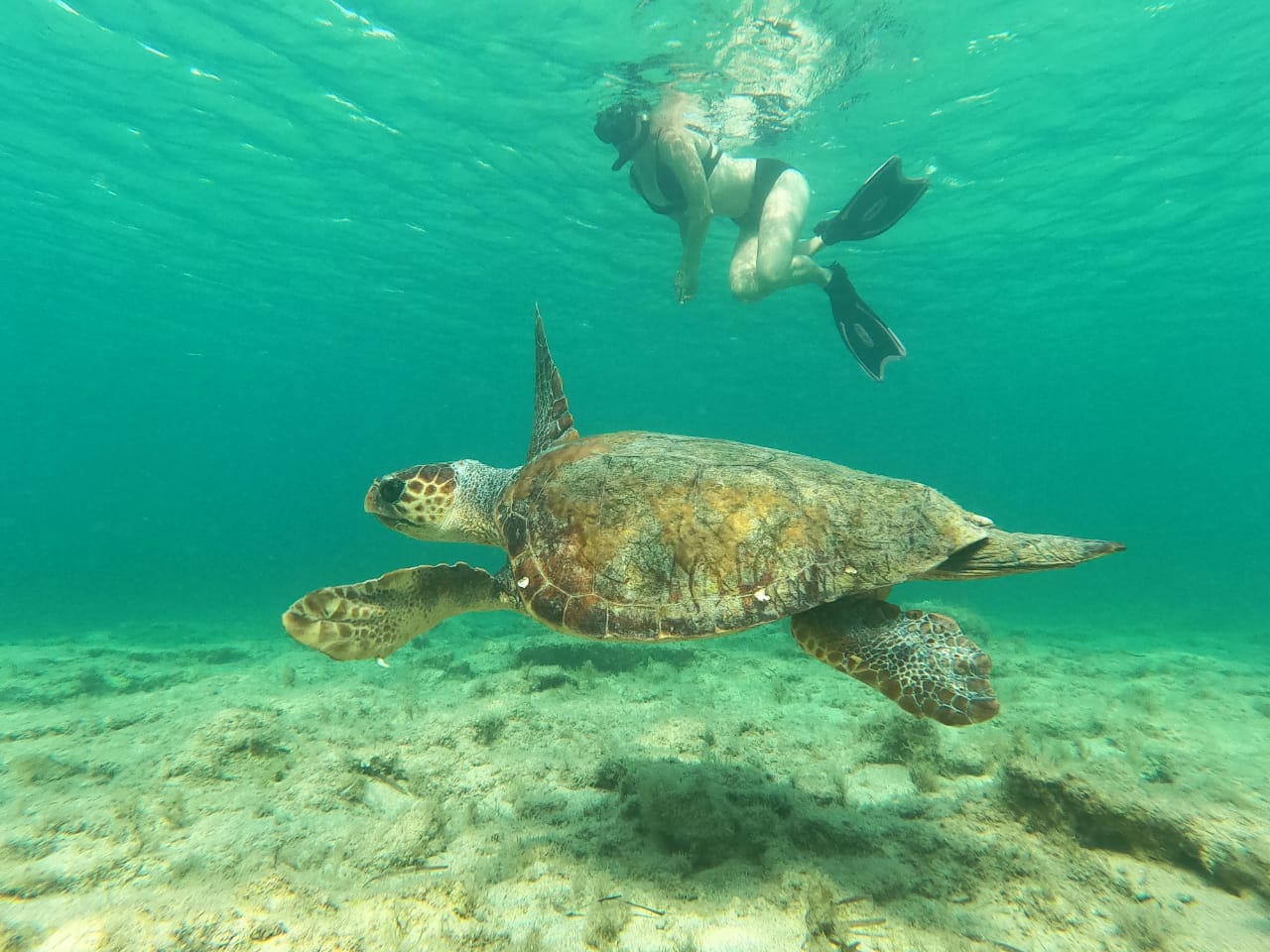 A half day Snorkeling excursion.
Snorkeling €45 / With extra €35 get your first scuba diving experience!
Book Now
Every Day

Morning tour 09:30 am – Afternoon tour 3:30 pm. Includes:

Hotel pick-up and drop-off is provided.
Sea caves / shipwreck visit.
Fresh fruits / fresh drinks included.
Underwater videos and photos (upon request, with an additional cost of €5 per person)
Snorkeling Excursion Itinerary:

Hotel Pick-Up: Our experienced and friendly guide will pick you up from your hotel lobby at the designated time. Sit back, relax, and enjoy a comfortable ride to the snorkeling destination.

Introduction and Equipment Distribution: Upon arrival at the snorkeling spot, our knowledgeable guide will provide a safety briefing and an introduction to snorkeling techniques. All necessary equipment, including masks, snorkels, fins, and life jackets, will be supplied to ensure your comfort and safety in the water.

Snorkeling Adventure: Dive into the crystal-clear waters and explore the breathtaking underwater world. Discover vibrant coral reefs, an abundance of colorful fish, and other fascinating marine life. The guide will accompany you, pointing out interesting sights and ensuring you make the most of your snorkeling experience.

Sea Caves / Shipwreck Visit: After snorkeling, we will embark on a fascinating exploration of nearby sea caves and visit a mesmerizing shipwreck. Our guide will share interesting stories and provide insights into the historical significance of these natural and man-made wonders.

Refreshment Break: After all the excitement, take a break and replenish your energy with a selection of fresh fruits and refreshing drinks. Sit back, relax, and soak in the scenic beauty of the surroundings.

Snorkeling Continuation (Optional): For those who can't get enough of snorkeling, there will be an opportunity to continue exploring the underwater world at a different spot. If you wish to extend your adventure, simply let our guide know, and they will accommodate your request.

Return Journey and Hotel Drop-Off: After a fulfilling half-day snorkeling excursion, we will begin our return journey. Enjoy the scenic views during the ride back to your hotel, reminiscing about the unforgettable experiences you had in the water.

Underwater Videos and Photos (Optional): Capture the memories of your snorkeling adventure with our underwater videos and photos service. Upon request, our professional photographer will accompany you and document your snorkeling journey. These memorable souvenirs can be purchased for an additional cost of €5 per person.

Please note that the itinerary is subject to change depending on weather conditions and the discretion of our experienced guides. Rest assured, our team will always prioritize your safety and ensure you have a memorable snorkeling adventure.